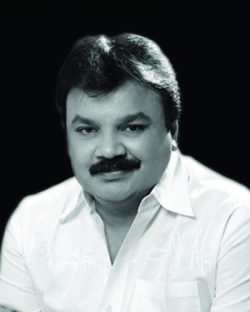 EDAVELA BABU
A renowned actor who has 35 years of prestigious journey with Malayalam Movie Industry got his nick name "Edavela" from his first film Edavela which was released in 1981. He now holds the position of secretary of "AMMA", the Association of Malayalam Movie Actors. He is best  known for his organizing capabilities and has directed, managed, associated more than 100 events related to AMMA and other socially relevant subjects. He has acted in movies in various languages and also compeered variety live shows in major Malayalam channels and is a popular dubbing artist .
ANWAR
A rambunctious youngster engaged with business from Kerala, he introduced Train Branding and Railway Advertising for the first time in Kerala. With an enriched volume of experience over a decade, he has paved way for greater success.  Mr. Anwar holds the chief involvement, and the overall management of the company, and overseeing Operations and Creative Works as the prime mover. Mr. Anwar was an active film world personality, worked as an assistant director and camera man in Malayalam movie industry.
ZULFI
An young enthusiast, who knows the pulse of creativity passionately. His youthful dynamism helped him to build a dexterous team which has earned a successful reputation in events. From the outset of the company Mr. Zulfi is an active member of director board, he takes the overall control of all marketing and co-ordination activities of Espanio events, and is extremely spirited and experienced with fashion related events. An exceptional thoughtful person who makes every event a masterpiece.